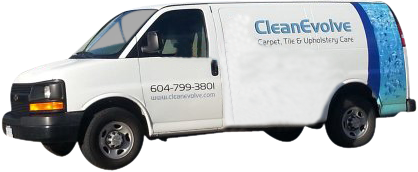 100% environmentally friendly, eco-friendly cleaning agents
CleanEvolve was started by Aris Van de Loosdrecht in 2005. With many years of experience in cleaning and restoration work, Aris knew it was time to start his own business.
Most cleaning businesses have been using unhealthy chemicals to clean. Aris wanted to go green and spent months researching different types of equipment and cleaning agents.
In 2013 Jeremy Vandergugten took over as owner and operator of CleanEvolve carpet care. Jeremy brings a strong customer service background and will continue the great service and attention to detail that CleanEvolve customers have come to expect.
CleanEvolve's goal is to build a successful business using safe and effective cleaning systems.
Residential
Carpet & area rug cleaning
Stone floor cleaning, polishing and sealing
Tile & grout cleaning
Mattress sanitizing
Odor control
Air Duct Cleaning Learn more>>
CleanEvolve's home office is located in Chilliwack, British Columbia.
Commercial
Carpet cleaning
Tile & grout cleaning
Stone floor cleaning, polishing and sealing
Fabric furniture cleaning
Office partition panel cleaning
Vinyl composite tile (VCT) cleaning and re-coating Learn more>>